Ahriman Prophecy
Edit
In Ahriman Prophecy, Tar Verdon was an exotic town that is placed in a desert in the west part of the world . One of the Tar Verdon's attractions is the Fighting Arena where slaves and brave ones fight with the beasts for their lives or to prove that they are strong .
Here Talia Maurva and her party fought and defeated all the beasts to save Vel's life.
Aveyond :Gates of Night
Edit
In Aveyond :Gates of Night Tar Verdon has lost lots of its attractions like Arena . It became weaker and smaller probably because of the dragons that usually come to the town and kill people .
Here you can buy armor and weapons for the party, gowns for Lydia, and even the Ice Bird Egg if you complete the Tylin and Harris wedding quest.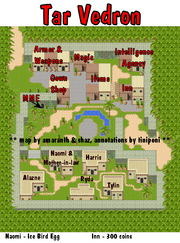 Aveyond :The Lost Orb
Edit
In Aveyond:The Lost Orb, Queen Gwyneth and King William of Thais go to Tar Vedron for a long vacation after their retreat.