Harakauna is a village with talking animals from Aveyond The Lost Orb. It may be connected to AnimalVille from Ahriman's Prophecy.
Location
Eldrion
Ruler
Mayor (Goat)
Population
18
Citizen
Animals
First Appearance
The Lost Orb
The Village
Edit
It lies on an island called Eldrion. Harakauna almost never get any visitors, though that does not mean visitors are not welcomed. They, just like every other city, have to abide to the rule that makes selling weapons and armory forbidden. It has it's annual food contest festival.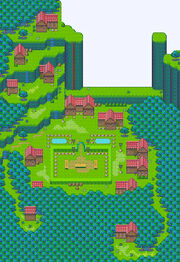 Notable events
Edit
Meeting Yvette: She is a shapeshifter, that will help you on your quest.
Leaving Ulf: Ulf stays behind to study under the local (and famous) alchemist.
Staying for a year: Mel stayed for a year there, between the events of The Lost Orb and The Darkthrop Prophecy.