The Story:
Edit
Boyle Wolfbane wanted to rule the world. He failed. Miserably. Forced into retirement early, Boyle now spends his days arguing with haunted trees and scaring off the occasional knight. At least he still has Fang, his loyal storm wolf. Things could be worse. He could have been born a hero.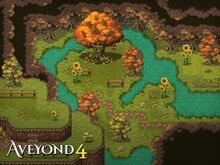 The Characters:
Edit
The Team:
Edit
Creators
Amanda Fitch & Daniel Newey
Music
Aaron Walz, Joel Steudler, Murray Atkinson, Scythuz, Kairi Sawler, Darren Curtis, Kenney Vleugels, 2014 Darkraven Fantasy Soundscapes
Art
Ben Resnick, PandaMaru, Celiana, Ian Schlaepfer, Sherman3D, Alexander Zavrin, eJaw, Lunarea, Ayene-chan, Candais, REFMAP, Crazy Crab, Kalez, hiddenone, VexedEnigma, Sithjester, Avery, Ying, Jason Perry, 7Soul, J. W. Bjerk, Hand Painted Textures, Indrah, Nanokan, Kalez, Charles Hurst, Cait
Amaranth Games has announced that Aveyond 4 is in progress. It was said that Amanda, the game's designer, wrote a 400 page script. The game will be made so that it can be played on windows , MAC and android :D . For more information and sneak peeks, visit Aveyond.com Have fun, as we eagerly wait for Aveyond 4!